parislights wanted to make this again and asked that I repost the recipe, so here it is…
This recipe from Manhattan's Comfort Diner, with its unusual use of oats instead of bread crumbs, produces a delightfully soft-textured meatloaf that's miles away from the mundane and typical dense-pack meatloaf that I find somewhat unpleasant.
From The Comfort Diner Cookbook. Note: My changes to the recipe, which I think are important, are immediately below it.
Mom's Meatloaf
Ingredients:
3 tablespoons olive oil
2 garlic cloves, minced
1 cup finely diced white onion (1 medium-size onion)
1 cup finely diced celery (2 to 3 stalks)
¼ cup finely diced green bell pepper (from 1 bell pepper)
1 tablespoon dried basil
1 tablespoon dried thyme
1 tablespoon dried oregano
2 large eggs
1 cup whole milk
1 cup plain whole oats
1 pound ground beef [80-85% lean]
½ pound ground veal
½ pound ground pork
½ tablespoon salt
½ tablespoon freshly ground black pepper
¼ cup Worcestershire sauce
½ cup canned diced tomatoes, drained
½ cup ketchup or canned diced tomatoes, for topping
Directions:
Preheat the oven to 325F/160C. In a large sauté pan on medium heat, warm the olive oil, then add the garlic, onion, celery, bell pepper, basil, thyme, and oregano. Sauté the vegetables for 3 to 4 minutes, until they begin to soften.
In a bowl, whisk together the eggs and milk. Add the oats.
In a large bowl, combine the meats well by hand. Season with the salt and pepper. Pour the liquid mixture over the blended meats and mix thoroughly to combine. Add the Worcestershire sauce, tomatoes, and sautéed vegetables. Mix well.
Place the mixture in a 9×12 baking dish and form it into a long, rounded loaf. There should be at least 1 inch of space around the loaf to allow fat to run off.
Spread the ketchup or diced tomatoes evenly on top of the loaf, and bake for 50 to 60 minutes, until firm and cooked through.
Remove the meatloaf from the oven and allow to cool for 2 to 3 minutes before serving.
Here are my changes and baking notes:
Change: The herbs from dried to fresh (I like the grassy note you never get from dried), the peppers from green to a mix of sweeter bell peppers like red, orange, and yellow
Double: The onions and the herbs (fresh aren't as intense as dried)
Triple: The peppers (I used ¼ cup finely diced of each of the three colours)
Lower: The milk to 2/3 cup or the mixture is almost too sloppy to free-form.
Sautéing the veg substantially changed:
Caramelise the onions to a mahogany color; doubled because they shrink to almost nothing
Add the celery and diced peppers when the onions are about 2/3 done
Add the garlic only in the last couple of minutes to avoid burning it
Add the herbs to the sauté only in the last minute
Tips:
If you warm the egg, milk, and oatmeal mixture for about 2 minutes in the microwave, mixing at about the one minute mark, it will thicken a good amount and help you better form the loaf.
You will likely need to adjust the seasoning, so make a small, thick patty from an ounce or two of the finished mixture and sauté it over medium heat, turning frequently, to an internal temp of 160F/72C so you can taste it.
If you make two loaves at a time as I usually do, your mis en place is probably going to take about 35 minutes if you're fairly proficient – 45 if you're also making mash from a boatload of potatoes. 50 if you add a passel of carrots. There's a helluva lot of stuff to peel, dice, and slice when you make two.
Baking changes:
Line a pan with heavy duty tinfoil and put a fairly close-mesh wire rack in the pan. Fold a piece of heavy duty tinfoil to the size of the loaf you intend to form (about 10×5″) and place on the rack. When you put the loaf on this, it will stop the mixture squidging through the rack underneath but will also allow the fat to drip off into the lined pan below as the meatloaf cooks. This way, it's not swimming in its own fat at the end.
If the mixture is on the loose side – and it probably will be – you can refrigerate it for a few hours or even overnight before forming, or be brave and form it anyway, then get it out of the oven at about fifteen minutes and, using a couple layers of food prep gloves to avoid burning yourself, push the sides in to get its height back. I've done that more than once, but these days I always do all the prep one evening, chill the mixture overnight, and bake it for dinner the next night after a day of delightful anticipation.
This one I refrigerated, then packed half at a time into a loaf pan and unmoulded onto the foil islands.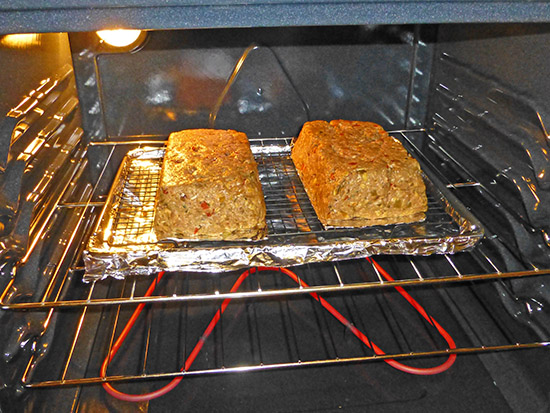 In my experience, the 50 to 60 minutes in the recipe well underestimates the time. It's more like 80 to 90 minutes when you have a properly tall loaf. Just use an instant-read thermometer to ensure the very middle of the loaf is 160F/72C. Any little critters that may have been along for the ride will be pushing up the daisies by then.
I don't paint the ketchup on top until baking is about three-quarters done. This way, it still darkens and thickens nicely, but doesn't form the almost burned crust of the original recipe. The result: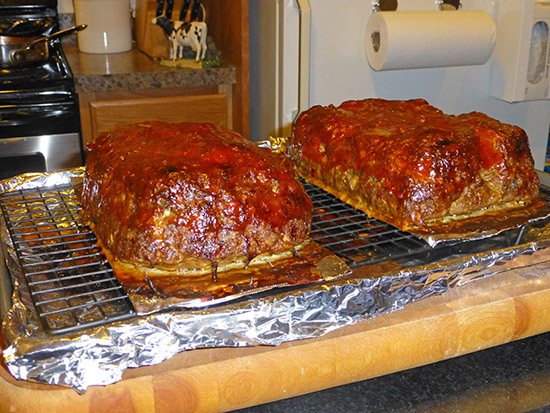 What do do with leftovers: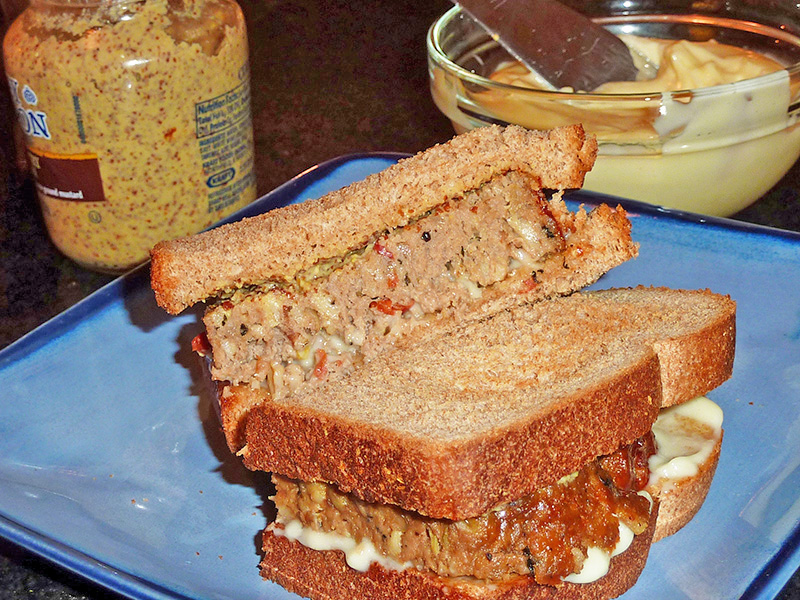 Feeling ambitious? Make some of this for your sandwiches: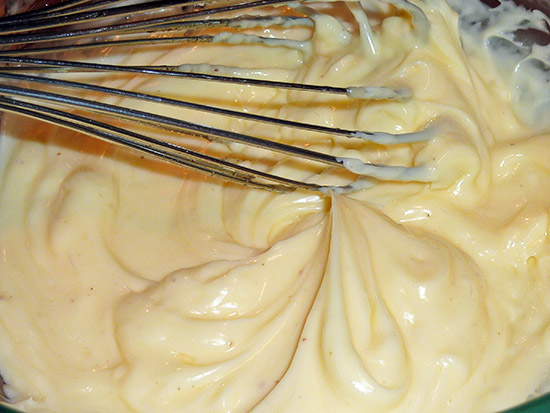 Homemade Mayonnaise
All you do is whisk together these six things in a medium sized bowl (tip: wet a kitchen towel, form it into a circle, and place your bowl onto it for stability while whisking):
1 egg yolk
1 teaspoon water
½ teaspoon salt
A few grinds of white pepper
1 ½ teaspoons lemon juice
1 teaspoon apple cider vinegar
Then, using a Pyrex glass measure with pouring lip or something similar, whisk in 1 cup of oil (I often use canola), by drops at first to start the emulsion, then a thin stream, then a thicker stream, whisking briskly all the while. Then you adjust seasonings as necessary. And you look at the clock and just four or five minutes has passed since you started.
It almost seems too simple to produce something so tasty and useful. In fact, it's so good and so easy that you may look out the window to see if the Commercial Mayonnaise Police are outside, waiting to break your door in whilst shouting, "What's all this, then?!"
If you're familiar with Trader Joe's mayonnaise, this is much the same in flavour. If you prefer the taste of Hellman's/Best mayonnaise, you can cut back on the lemon juice and add some mustard powder.